TECHNIQUES - LIGHT PAINTING
Painting with light is a technique in which very long exposures record the movement of sources of light over time. Using Digital Air's camera systems this technique can be made time-progressive, i.e.: the paths of the light sources can be moving. The result is a three dimensional image of light being painted in time.

The actual painting can begin after our camera system's shutters open but before the time progressive portion of the exposure event begins, so, for example, a complex drawing can be made over several minutes and we only see the last few seconds of the motion in the final shot (although we see the entire light painting). Or the time-progressive frame rate can be slowed down during the shooting, so that something that takes several minutes to paint appears to "paint itself" in just a few seconds when played back.

The light painting technique can be combined with live action in camera by using timed photo strobes as in the flash trail technique, or in post through compositing. Multiple plates can be used to place light painting in front of and behind live action and the live action technique can be combined with other techniques to bring additional artistic possibilities to the live action plate.

The light painting on white effect (below) is achieved by shooting inverse colors on black. The image below was shot as red light on black.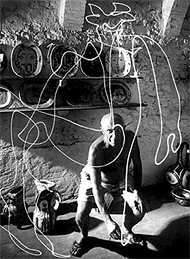 Picasso - photo: Gjon Milik
still from Nissan shoot (see below)