TECHNIQUES - LIVE ACTION
To shoot live action we trigger our camera systems sequentially rather than simultaneously. This introduces a time-offset from camera-to-camera. For example, to shoot at 24 fps we introduce a time offset of 1/24th of a second.

While it is generally easier to shoot live action with a motion picture camera there are several reasons that one might want to use Digital Air's camera systems instead.

One reason is slow motion. Because the time offset between each point-of-view in our systems can be very small we can use live action (i.e.: sequential triggering) to shoot super slow motion - achieving frame rates all the way up to an infinite number of frames per second (the frozen moment).

The live action technique can also be used for shooting matching plates. By shooting multiple plates within the same camera system (for example a frozen moment and a live action plate) we can composite them together in post production just as easily as if they were shot with motion control. This lets us easily introduce moving subjects into the frozen moment.

Shooting live action within our systems also allows us to create seamless transitions from live action to the frozen moment.

The live action technique can also be used as an alternative to motion control in situations where it is easier to use our systems than motion control, for example on a moving car as in the example below. (see rig photo to the right)

Our camera systems can also be used to produce super-fast fully repeatable camera moves with completely independent control over camera movement and frame rate.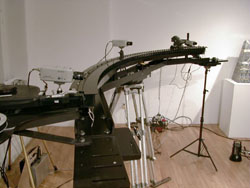 Timetrack™ 80 lens curved camera in New York
HD-1 digital system in Rio de Janeiro